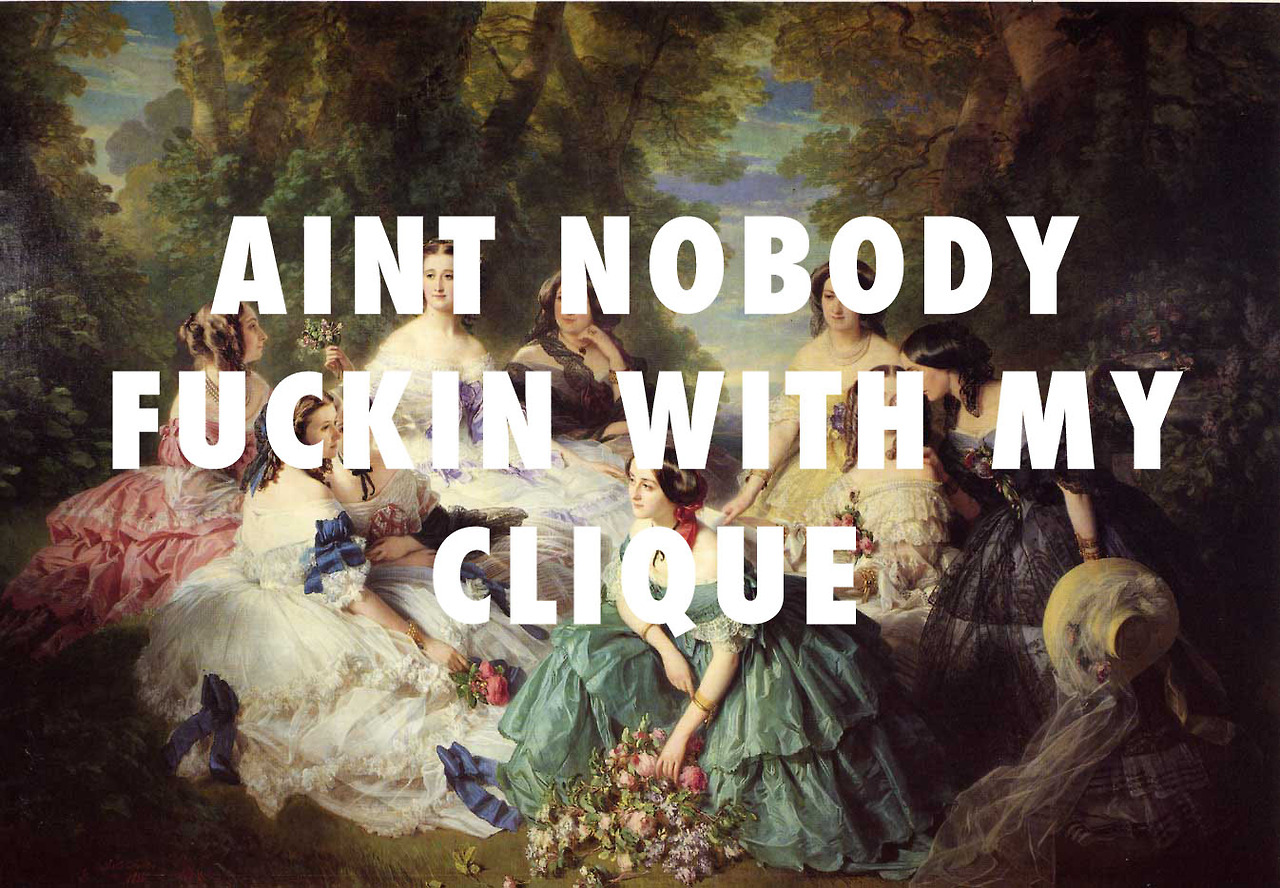 Ladyfriendships
Wednesday March 5 2014
by Sophia
The bulk of media shows female friendships as being a bit vapid, a bit petty, and really not as worthwhile as either romantic partnerships (hetero partnerships of course) or those Important Man Friendships. Man Friendships are the most Worthwhile Serious Important friendships that exist and if you are penis free you can't play. (It should be noted that not all men have penises but seeing as I am talking about mainstream media you betcha it's transphobic).
The way ladyfriendships are portrayed also helps out the "not like other girls" rhetoric, which occasionally overlaps with being manic pixie dreamgirl-ed. When some romantic interest turns up, often a point is made how she is Not Like Other Women, better in some way, maybe she reads books or is actually a robot bent on destroying the planet. Actually, I am pretty happy when the Not Like Other Women trope ends with surprise!robot. I am less happy when it functions to tear down other women.
And look, I spent my teenage years being proud that I wasn't "like other girls" (read: hardcore nerd with internalized misogyny). My close friends were mostly male and to be honest, I was kind of a dick about the girls in my class - if not obviously in person (everyone is a dick when you're 14), certainly in my head.
I was under the impression that ladyfriendships were the worst and that you couldn't be smart and pretty, or well-read and good at makeup, blah blah blah. I mean, if Mulan taught me anything it's that the only way to save China is to pretend to be a dude for at least half the film. Right?
Ladyfriendships are the most worthwhile awesome things that you will ever have. You're not like other girls, because girls aren't an amorphous blob that shares all the same characteristics, which is why you should be friends with those girls because they are interesting and fun and will teach you things. The internalized misogyny of my teenage years meant that I had no fucking clue how to put makeup on my face, and ladyfriendships have taught me such things, often with great patience. They have also made me a badass feminist, and meant that now when I run the world I am pretty determined to do it with a combination of typically feminine and masculine characteristics.
All friendships can be difficult, and all friendships will suck occasionally, but ladyfriendships get you in a way that dudes often don't. Try explaining to a guy that you want to be both the damsel and the superhero. That you love what Zooey Deschanel says occasionally but you're not her and you don't want to be her and you never want to be a manic pixie dream girl even though sometimes you kind of like being put on a pedestal. Guys and girls aren't that different except in the way that they're socialised from age five (if you're lucky), but that difference means that there are some things that women will totally get that men just can't even see.
Ladyfriendships are great, not vapid or petty. Also they are not worth ditching for fighting over a boy even though that totally always happens in the movies. For some sweet media that portrays badass ladies being friends, check out Avatar: The Last Airbender, Parks and Rec, or Flat3. Otherwise, sulk about how a lot of tv sucks when it comes to such things. ▼
This article was first published on Sophia's personal blog at confournament.wordpress.com